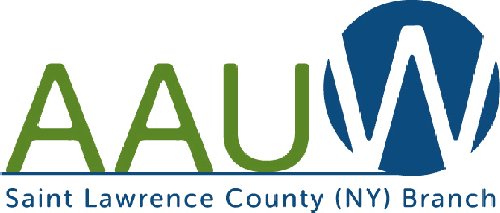 AAUW-St. Lawrence County Branch
---
AAUW advocates for women and girls - not corporate special interests.
Great AAUW video: #TheNew10 Submission - The U.S. Treasury has called on Americans to submit their "ideas, symbols, designs, or any other feedback that can inform the secretary as he considers options for the $10 redesign." So we figured we'd help Secretary Lew reimagine the $10 bill by illustrating just how real the gender pay gap is.

AAUW in the News: NNY Biz magazine: Advocates work to empower women
The St. Lawrence County Branch was formed in 1927 - Celebrating 88 years in 2015!
We have 60 members from a diverse educational and employment background who work together to fulfill the mission of the American Association of University Women: Advancing equity for women and girls through advocacy, education, philanthropy, and research. Membership in the St. Lawrence County Branch is open to anyone who supports the mission of AAUW. In principle and practice, AAUW values and seeks a diverse membership. There are no barriers to full participation in this organization on the basis of gender, race, creed, age, sexual orientation, national origin, disability, or class.
The St. Lawrence County Branch created the first AAUW Branch website in the country!
The AAUW Educational Opportuntities Fund provides funds to advance education, research, and self-development for women and to foster equity and positive societal change.
The AAUW Legal Advocacy Fund provides funding and a support system for women seeking judicial redress for sex discrimination.
AAUW-St. Lawrence County Branch, PO Box 909, Potsdam, NY 13676-0909.
---
July 1: Beginning of a new AAUW membership year
July 24-26: AAUW-NYS Summer Meeting in Cazenovia, NY
July 28-30: 2015 U.S. Trans Survey Awareness Week >August 23: International Day for the Remembrance of the Slave Trade and Its Abolition
August 26: International Women's Equality Day
September 7: Labor Day
---
2015-16 Officers
President: Betty Connolly

Meet the new AAUW SLC Officers!

President Betty Connolly, South Colton, Secretary Nancy Rowledge, Canton,
Development VP Sue Rice, Potsdam,
installing officer Marie Regan, Town of Potsdam Supervisor (and past branch president),
and Treasurer Ann Carvill, Potsdam.

Betty was our 2013 Emerging Leader for St. Lawrence County Branch.

Membership VP: Relani Prudhomme

AAUW Member in the News: Mayor Ashley honored as Woman of Distinction (May 8, 2015)
Congratulations to our 2014 Emerging Leader for St. Lawrence County Branch: JoAnn Rogers
Want to renew your dues on-line at AAUW? Here's how!
It's GRADUATION season, and with that comes the question of gifts. How about the beginning of a life - time of friendship in AAUW? Through the national program you can (at no cost to yourself) give someone a FREE one-year national membership. AAUW-NYS waives one year's dues for "GGG" recipients, as does our branch. Please note that only members can be the providers of these gifts and they must be given within two years of the recipient's graduation. Think about it for your students, daughters, granddaughters, friends, nieces, etc. – a great deal for all!
Learn how to become an E-Student Affiliate for free!
What Makes Women Decide to Join or Stay in an Organization Today? presented by Claudia Richards: AAUW, Senior Branch Field Relations Manager, at the AAUW New York State Summer Leadership Conference on July 16, 2011

Program VP: Tina Flannagan
AAUW Development VP: Sue Rice
---
2015-16 Committee Chairs
Public Policy: Kathleen Stein

Watch North Country Matters - the local video public affairs magazine produced by WCKN under the direction of Dan Dullea of the Center for Excellence in Communication at Clarkson University. The NCM civic partners working to educate North Country residents about critical public policy issues facing our region include AAUW-St. Lawrence County, the League of Women Voters of St. Lawrence County, and Clarkson Media and Mass Communication students, who provide the technical expertise for the productions. The shows are filmed at the WCKN studio on the Clarkson campus.

Women in Engineering Day at SUNY Canton 2015 - On May 13, 2015, SUNY Canton and AAUW-St. Lawrence County collaborated to put on a STEM Day for 140 7-12 grade female students from nine St. Lawrence County Schools. The students could choose 4 out of 9 classes to take for hands-on STEM learning experiences. The project was supported by a Branch Programming Grant from AAUW-NYS.
WPBS Public Eye with Jeff Cole: Title 9, Sexual Harassment in College - Sexual abuse on college campuses is not just a national problem but it affects colleges here in the North Country. In this special 1-hour episode of Public Eye, we examine this very controversial and sensitive topic through a panel discussion exploring the realities surrounding sexual assault on our local college campuses. This special edition of Public Eye was underwritten by AAUW-NYS and the Branches of District 7. (April 13, 2015)
Body Image & the Media - Jenna Boss, a member of the Clarkson University Class of 2015, discusses how media images in movies affect children, media marketing directed at children, and how to become a savvy media consumer. (April 7, 2015)
Opening the Gendered Toolbox - Emily Baker, a Social Documentation major of the Clarkson Class of 2016 discusses her research into women engineering students at Clarkson using the new AAUW report Solving the Equation: The Variables for Women's Success in Engineering and Computing, they discuss AAUW's recommendations for colleges with Clarkson as a case in point. (April 7, 2015)
North Country Matters: Public Heath Today in the Face of Current Events Dr. Timothy Sellati, who joined Saranac Lake's the Trudeau Institute in 2013 as an Associate Member, talks about public health, both from a historical perspective and how it applies today in the face of the current events, including the recent measles outbreak and how climate change is affecting disease. (March 31, 2015)
North Country Matters: Sexual Assault Awareness - St. Lawrence Valley Renewal House guests Valarie Dana, Child Advocate/Educator, and Caitlin Hill, Legal Advocate, talk about sexual assault awareness. (March 31, 2015)
North Country Matters: Helping Hands of Potsdam - Tom Chappell, the Director of Helping Hands, discusses the history and work of the non-profit agency. (March 24, 2015)
North Country Matters: St. Lawrence County SUNYS' Cambodian Study Tour - Sabel Bong, the Educational Opportunity Program (EOP) Counselor at SUNY Canton and two SUNY Potsdam students, Isaac Griffith, a senior in Sociology and Speech Communications, and Joshua Garry, a junior in Sociology and Psychology, discuss their recent Study Abroad trip to Cambodia. (March 24, 2015)
North Country Matters: North Country 350 Alliance with Heather Sullivan-Catlin and Ginger Storey-Welch (March 10, 2015)
North Country Matters: Village of Canton Check Up with Mary Ann Ashley & Leigh Bixby Rodriguez (March 10, 2015)
North Country Matters: Potsdam Central Update with Superintendent Pat Brady (March 3, 2015)
North Country Matters: Steve Todd on Education Challenges in 2015 (Feb. 17, 2015)
North Country Matters: The 2015 Workers Memorial Theater Project (Feb. 17, 2015)
Tom Graser on Media Changes (Jan. 27, 2015) Tom Graser is the editor of the St. Lawrence County newspapers. He discusses his media career - which started in Plattsburg at WEAV Radio in 1985 - and the changes he has seen in the last 30 years.
Food Insecurity in St. Lawrence County with Heather Sullivan-Catlin and Daisy Cox (Jan. 27, 2015)
North Country Matters: Gloria McAdam, the Executive Director for GardenShare.org (Jan. 20, 2015)
North Country Matters: Teen Dating Violence Awareness Month with Caitlin Hill & Valerie Dana from the St. Lawrence Valley Renewal House for Victims of Family Violence (Jan. 20, 2015)
St. Lawrence County College/University Partners:
---
2015 AAUW-NYS Convention Awards for AAUW-St. Lawrence County Branch:
Programming: 2015 21st Century Platinum Award for North Country Matters
Membership: Special Membership Recognition (and a $25 check)
AAUW Funds:

Top 10 Total Unrestricted AAUW Funds Contributions
Top 10 Total Public Policy Fund Contributions
Legal Advocacy Fund (LAF) Star Branch
Evvie Currie Giving Circle (LAF) Award (3rd)
Public Policy:

Common Core Education Award
Title IX Action Award
Voter Legislation & Education award
STEM-Hour of Code Award
STEM Impact Grant ACTION Award
Social Justice Award
Communications:

Website Award of Merit
Visibility Award of Merit
---
---
---
You can reach the branch by e-mail.
---
Updated July 23, 2015
---