Celebrating 35 Years of Change:
Title IX & Girls' & Women's Sports
Updated March 28, 2007
---
Celebrating 35 Years of Change:
Title IX & Girls' & Women's Sports
March 5 at Potsdam College's Thatcher Hall
The St. Lawrence County Branch, AAUW, the North Country Region, NYS-PTA, and Women's and Gender Studies at SUNY Potsdam hosted an event on March 5 at SUNY Potsdam. Titled Celebrating 35 Years of Change: Title IX & Girls' & Women's Sports, we took an in-depth look at Title IX. In addition to the progress made locally on Title IX issues in the last 35 years, we discussed grass roots activism techniques to continue to make positive change for women and girls in sports.
Keynote - Mitzi Witchger, GREAT! (Girls Really Expect A Team!)

Title IX Panel

Margie Strait - St. Lawrence University Athletic Director
Lauren Bruce - SUNY Potsdam Senior Woman Athletic Administrator
Diane Para - Athletic Director and Assistant Dean of Students at SUNY Canton
Laurel Kane - Clarkson Senior Woman Athletic Administrator
Panel Moderator: Marie Regan, Town of Potsdam Supervisor & AAUW member
Panel Respondent: Jennifer Ball - Clarkson Dept. of Humanities and Social Sciences
---
North Country Public Radio Interview
Forum celebrates 35th anniversary of Title IX
Listen to audio - Download audio (10:03)
Sports equity expert Mitzi Witchger, founder of GREAT! This year marks the 35th anniversary of the passage of Title IX of the Education Amendments of 1972. Title IX is the anti-discrimination law that protects women and minorities who are working or studying in an academic setting. During the three and a half decades since Title IX was signed into law, there has been a big shift in societal attitudes toward girls and women in sports. Earlier this month, the St. Lawrence County Branch of the American Association of University Women held a forum celebrating Title IX and postive changes in female sports programs in the North Country. Gender equity expert and sports advocate Mitzi Witchger, founder of GREAT! (Girls Really Expect a Team!), was the keynote speaker. She's a sports equity leader in Minnesota, Indiana and nationally. Witchger told Todd Moe her interest in sports equity began when her daughter was born in 1973 – the year after Title IX became law.
---
Meet Mitzi Witchger: GREAT! Girls Really Expect A Team!

As a parent of two sons and a daughter who are athletes, Mitzi Witchger is familiar with the constraints, challenges, attitudes and opportunities for youth involved in sports, especially females who want to be athletes.

Mitzi formed the GREAT! organization: Girls Really Expect A Team! in Minnesota. As a gender equity consultant, advocating for equitable sports opportunities for girls as well as for boys, she works with students, parents, interested community members and administrators to address Title IX athletics compliance issues in educational institutions across the country. Basketball, soccer, softball, badminton, volleyball, synchronized swimming, lacrosse, speedskating, equestrian, and Nordic skiing have been implemented or improved for females as a result of their efforts.

In 1995, GREAT! received a grant from MN Women's Fund to continue its successful work outstate. The biggest accomplishment however, has been in starting sanctioned girls' high school ice hockey in MN. In 1993-94 there were no interscholastic teams. Now more than 125 girls teams from over 140 MN high schools compete to play in a three day televised state tournament. Now girls' interscholastic varsity teams are a reality in many high schools across the country where boys hockey is played.

As a result of this success the University of Minnesota, Ohio State and University of Wisconsin, all Big Ten Division I schools, have started women's varsity hockey, complete with scholarships. Presently there are 77 college varsity teams.

In 1997 she was featured in the winter edition of AAUW's Outlook magazine, was a keynote speaker at the IN Interscholastic Athletic Administrators Association conference, and designed, coordinated, and was a presenter at a statewide Title IX seminar for IN school administrators.

She is the past president of the Indianapolis Branch of AAUW and the former director of Public Policy for IN AAUW. In 2005, Mitzi received the Indiana Torchbearer Award, which recognized her extensive work in advocacy for sports equity, and is the highest honor given to a Hoosier woman.

She has traveled to Wisconsin, Illinois, Ohio, Michigan, Alabama, Washington DC, Massachusetts, Missouri, Kentucky, Texas, throughout Rhode Island, as well as central and upstate New York, addressing Title IX issues.

Mitzi was last in Potsdam in 1998 to help advocate for girls' ice hockey. Since her last visit, we've seen ice hockey grow to an Empire State Winter and Summer Games sport, become a sanctioned girls sport in NYS, and soon all four of St. Lawrence County colleges will have women's Ice Hockey teams!
---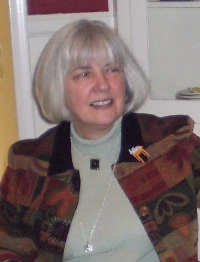 Breaking Barriers...Building Bridges...Expanding Opportunities...Celebrating Success!
Mitzi Witchger, GREAT!
Girls Really Expect A Team!
That's what we're here for today, on March 5, 2007. To talk about Breaking Barriers...Building Bridges...Expanding Opportunities...Celebrating Success!
In 1972 when US Senators Birch Bayh (D-IN) and Ted Stevens (R-AK), and Representatives Edith Green (R-OR) and Patsy Mink (D-HI) first sponsored in Congress what would become Title IX, they only hoped that barriers would be broken, bridges would be built, and opportunities would expand for young women.
Title IX of the Education Act of 1972 states: "No person in the United States shall, on the basis of sex, be excluded from participation in, be denied the benefits of, or be subject to discrimination under any education program or activity receiving federal financial assistance." Though Title IX does focus on more that sports, it is sports that most folks think of when Title IX is mentioned.
Title IX does not require that any men's sports be dropped, or even a reduction in their opportunities. Its purpose is to create the same level of opportunity and quality of treatment for females that males are afforded at an educational institution, using the resources that are available through its athletic department.
Perhaps you know that Title IX compliance can be fulfilled in one of three ways:
When the ratio of the male/female athletic population in a school is similar to the student body male/female ratio. This is what is commonly called the proportionality prong. It is not a quota.

When there is a history and continuing practice of program expansion for the underrepresented gender, which on athletic fields historically have been females.

Or, when a school has effectively accommodated the interests and abilities of the underrepresented gender.
Today, we'll focus our celebration of success on how Title IX has impacted the phenomenal growth of the number of female athletes at high schools and colleges throughout the country.
Thirty five years ago.... that's nearly 9 generations of students who have matriculated in school since then…thirty five years ago.... one in 27 females participated in high school sports. Today, about one in 3 does. For every 2 high school boys in 1972, one played a sport. That number remains the same today.
Female participation in actual numbers in high school sports improved from 294,000 in 1971 to 2.8 million in 2002. According to the National Collegiate Athletics Association, the number of women participating in sports prior to 1971 totaled just fewer than 30,000. More than three decades later, that figure has skyrocketed to over 150,000 female athletes at the college level.
And, in spite of what USA Wrestling tells people, male participation has increased in both instances, interscholastically and intercollegiately, just not as dramatically.
Those numbers are certainly worth celebrating!
There are a couple of clouds on this horizon, however:
Because many colleges see the dollars that TV revenue adds to their potential to make money in men's basketball & football games, administrators are tempted to shortchange other teams, looking for the gold that the NCAA dangles in front of them through its very lucrative contracts with the media. This, in spite of the fact that in over 80% of NCAA member schools where football is played, the football program brings in less money than is spent on the program. So, football may generate big revenue, bringing in lots of dollars, but in most cases, still a profit is not made. I know that only St. Lawrence University has football here, so that is not the same issue in the Potsdam area, the way it tempts other conferences.
Scholarships can also present a challenge to large universities in maintaining equitable opportunities for both genders. The gap is closing there too, but not fast enough. Football scholarships create the biggest imbalance. The NCAA allows up to 85 scholarships for Division I football programs.
Too often they 'blame' Title IX for having to drop a sport. It's not Title IX that is the culprit here. It's the administration's choice to ramp up their investment, to put more resources into their football & men's basketball programs, at the expense of funding other their sports teams.
As another example: wrestling, men's gymnastics, swimming & diving, and water polo are men's sports ... and also Olympic sports... that have been dropped because ADs are under pressure to create more balance. Take Syracuse as an example of that. It need not be that way.
When I began to research SUNY Potsdam, SUNY Canton, Clarkson & St. Lawrence, I was pleased to learn that your colleges offer LIFETIME sports...squash, soccer, basketball, cross country, rowing, golf, riding, baseball and softball, tennis, Alpine and Nordic skiing, ... and for those of us who live in the Northlands, ice hockey. While I know of no adult field hockey or lacrosse teams where I live, my guess is that that there are folks who continue to play those sports after college too. That's something to celebrate!
Are women's sports as important as men's? You know my answer. Most women enjoy, train, practice, are as motivated & intense, and compete at the level most men do. They just don't always get the fans in the stands that men's sports do. I say, if women got the same level of resources and commitment to marketing dedicated to their programs that men have had for that last century, then their stands would be full too.
Some Athletics Directors and other nay sayers tell me: 'Well, women just aren't as interested in playing sports as men are'. I say "You're right. The girls softball team isn't as interested in playing on fields they have to share with the community ball clubs, while the boys have pristine baseball fields to themselves: seeded, weeded & mowed, complete with lights, a pitching machine and batting cage, dugouts, fencing, sound system, rows of bleachers, and a concessions stand. Female soccer players don't want male hand-me-down jerseys, and an off time practice schedule.
Girls who play hockey want trainers and access to weight room equipment, and the same kind of practice schedule, just like their male counterparts have. Basketball players need the same grade of equipment and shoes. One gender shouldn't be getting all the 'good' practice times while the other gender gets the 'less good' times. And they ALL want access to quality coaching." The disparity is more often seen in those sports rather than in golf, or tennis, or swimming, cross country, or track & field...often because the coach may have both male and female players in those 'second tier' sports.
I encourage you to speak up if that is happening where you are. Tell the Truth to Power. Let them know you want to EMPOWER, not their power. You'll be celebrating that success, too.
Too often in the not so distant past, the only time colleges and universities would want to spend time talking about their women's sports programs was when it came to grade point averages and graduation rates. Those certainly are success stories! While there are still disparities to be addressed, female athletes stand tall and proud along with their male counterparts as they compete in their sports endeavors.
More success to celebrate!
Thus, Title IX helped break the 'grass ceiling', as it were. The NCAA, up until about the mid-1980s, initially appeared to be against equal sports opportunities for women's teams. Not anymore. Today, the NCAA holds annual Gender Equity in Athletics training seminars, as does the National Federation of High School Athletics & Activities Association, both of whom have offices down the road from me in Indianapolis. And the NAIA supports Sports Equity as well. The success of Title IX has only increased the will to do more. Every state athletics association that I researched has a statement supporting Title IX & Sports Equity.
Last month Senator Olympia Snowe (R-ME) in the Senate, and Representative Louise Slaughter, a Democrat from the Buffalo area of your own state of New York, introduced bills in Congress similar to the EADA (Education in Athletics Disclosure Act). These are sports equity reports that colleges and universities must file annually. These Interscholastic Accountability Acts would require that high schools show how their athletics resources are used. I encourage you to ask your Federal legislators to support these important bills.
Just last week Nancy Pelosi (D-CA), Speaker of the House said: "It has been my pleasure to work with Mia Hamm and Julie Foudy on preserving Title IX - the landmark civil rights law, that for nearly 35 years, has ensured equal opportunity for women and girls in athletics and education. Title IX has empowered hundreds of thousands of young women on the field, and in the classroom, to be stronger and bolder through a simple message: your education is crucial and your future is limitless."
More reason to celebrate Title IX success!
According to information from the Women's Sports Foundation, females who are athletes have more positive body images, less depression, and higher levels of self esteem than those who don't play sports. They are less likely to have an unwanted pregnancy, or to use drugs, and more likely to graduate from high school. They get better grades too. Myles Brand, head of the NCAA, says: "All young women engaged in athletics have reason to cheer today. And all of us who support their athletics endeavors, myself proudly included, should join in their celebration."
And it's also no accident that female CEOs state that athletics was an integral part of their growing up experience.
CELEBRATE SUCCESS!
Here is a question that folks often have asked me.
Is it the number of teams or the number of opportunities that are important?
The answer? It is the number of opportunities that are important. There can be three or four more girls or women's sports teams in a high school or college, and still have fewer opportunities available for females.
Why? Though there are more women's teams than men's, men's squads usually have more players per team, and get more grants in aid than women do, to say nothing of football coaches' salaries. And more recruiting dollars are spent on men. In 2001, there was an average of 199 male student-athletes per school, down from about 215 in 1982. In 2001, there was an average of just under 144 female student-athletes per school, up from 94 in 1982.
Here's something else about Title IX:
A few years ago when asked if Title IX helped her to get to play tennis when she was younger, Jennifer Capriati remarked that she didn't know what Title IX was. Imagine! Today's female athletes, at both the high school and college level, may not think much about Title IX, because they've never had to. They've been able to play just about any sport they've wanted to play for their entire lives.
I do want to take a moment to speak about a threat to Title IX today. Change loomed on the horizon in 2002. That was when many women's groups feared that, when President Bush asked the US Department of Education to create the Commission on Opportunity in Athletics, something untoward was in the wind. Folks began to worry. And rightly so, as it turns out.
They were concerned that the Commission's recommendations could fundamentally change the concepts of Title IX. The decision by the Commission on Opportunity in Athletics - coming at the end of an often passionate six-month cross-country study - to recommend only modest changes to the way Title IX compliance is measured, was hardly viewed as a victory by women's groups. Commission members Julie Foudy and Donna DeVarona filed minority reports that argued that the Commission was biased toward big-time college sports - those schools whose interests were best served by promoting football and basketball programs at the expense of minor sports.
I was asked to testify to that group when it scheduled a two-day hearing in Chicago in September of 2002. I shared my perspective that girls want no more, nor any less, than what boys want when it comes to sports. Treat them fairly. Treat them equitably. Then we, and they, are all winners.
Donna Lopiano, Executive Director of the Women's Sports Foundation, was more blunt when the Commission filed its recommendation to use email surveys sent to female students already at their colleges, as a way to accurately measure athletic interest.
Would the students ignore such a survey? If they do, they can be counted as not being interested in participating in sports. However, they may have already self-selected themselves out of playing a sport by then. Thus it would not be a valid measure of athletic interest. "What they've done is, rather than go through the front door, they've opened the barn door in the back, for the education secretary to do whatever he wants to Title IX," said Lopiano. "And they did that without showing any guts at all. On the whole, this was not a good day for pro-Title IX folks." Being able to count non-responses as negative interest could have a drastic effect on women's athletics. So far, very few colleges have chosen to use this kind of data collection.
That's why programs such as this one today will continue to get the word out about Gender Equity in Sports. The name of my organization is GREAT! Why? Because Girls Really DO Expect A Team!
As we celebrate the growth of girls and women in sports, what can YOU do to increase interest and support female athletes? There are lots of ways you can make a positive difference in their lives. Attend their games & take your friends along. Athletes like fans in the stands, yelling their support. Go for it. Buy season tickets & share them with a girl-serving group if you can't attend.
Become an athlete yourself, if you're not already! Whatever your skill level, there are others who play at that speed too. I know! I learned to play ice hockey at age 49. Buy and give sports equipment to the other females in your life. Buy some for yourself too. Donate dollars to your high school or college, earmarked for girls and women's sports. Encourage girls to become athletic and fit.
Join an organization that supports Title IX and gender equity in sports, like AAUW or the Women's Sports Foundation. Check out their websites for more resources. Let your legislators know that you believe in parity, and that you expect their similar support. That's so easy to do through organizations like AAUW and the CapWiz 2-minute action on their website.
Send a girl to a sports camp. Go to one yourself. Help send a girls team to a state tournament, just like St. Lawrence County AAUW has done this winter through its Open Windows project. Support businesses and products that sponsor girls teams. Volunteer to coach a girl's team, or to be the manager, or to take pictures and to write the game day wrap-up story for their newsletter. Celebrate National Women & Girls In Sports Day!
Because, more and more girls are learning what most boys have know for so long: sports are about so much more than the score!
I raise a glass to each of you ...and the work that you continue to do, to provide equity in athletics to the girls and young women who strive to be athletes in your programs.
Together, let's CELEBRATE SUCCESS!
Thank you!
Mitzi Witchger
March 5, 2007 - Potsdam, NY
---